You are currently on the:
CMHA National
Visit our provincial websites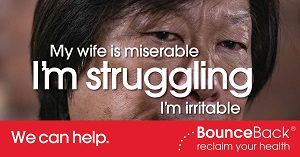 Reclaim Your Health with BounceBack
Jun 30, 2022
We know that the COVID-19 pandemic has been challenging for many Ontarians. In fact, a recent CMHA Ontario poll demonstrates the strain the pandemic has had on the mental health of Ontarians. It shows that only a third of Ontarians (35 per cent) consider their current state of mental health as 'very good' or 'excellent,' a significant decrease from 52 per cent as recorded in its first poll last May. Perhaps not surprisingly, rates of stress, anxiety, and depression during the pandemic are also worse than ever. 
That's where the BounceBack program can help. It's a free, evidence-based, cognitive behavioural therapy (CBT) skill-building program that can help adults and youth 15+ better manage their symptoms of low mood, stress, worry and mild-to-moderate depression and anxiety. 
Learn more and sign up at https://bouncebackontario.ca/.