You are currently on the:
CMHA National
Visit our provincial websites
Support for local suicide prevention in memory of Tom Pakulat
Sep 13, 2021
Above: CMHA-HRB CEO Rashaad Vahed, right, and Marybeth Pakulat
2021 marks the 5th anniversary of the Tee Off for Mental Health Tom Pakulat Memorial Golf Tournament. Tom Pakulat was a caring, hardworking son, husband, and friend, the life of the party who worked hard to make sure that those around him never felt the loneliness and darkness that he felt as part of his mental illness.
Tom died by suicide at the age of 29, and as his wife Marybeth and her amazing supporters celebrate his life through the golf tournament, they also help to raise awareness about mental health, eliminate stigma, and raise funds for CMHA-HRB to make services available in our community. Since 2018, they have donated over $38,000.
The sold-out 2021 tournament was held on Tom's birthday, July 24th, and raised $16,500. In honour of Tom, these funds will be dedicated to the Halton Suicide Prevention Coalition, a collaboration of individuals and organizations that work together to provide leadership, advocacy, and education. The Coalition was recently accepted to be part of the Mental Health Commission of Canada's national Roots of Hope project that provides evidence-based guidance and best practice guidelines to implement suicide prevention initiatives in the areas of specialized supports, training and networks, public awareness, means safety, and research across Canada. The Roots of Hope model provides structure around which communities can tailor their suicide prevention efforts to meet their unique needs.
Thanks to Marybeth and the Tee Off for Mental Health supporters, the Coalition will have additional resources to give voices to those who have suffered in silence and provide support and hope to our community.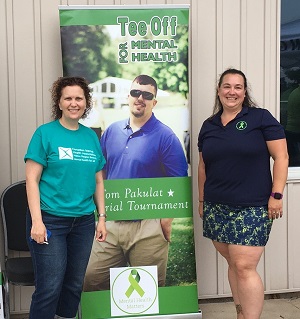 Above: Melanie McGregor, Chair of the Halton Suicide Prevention Coalition, and Marybeth Pakulat at the Tee Off for Mental Health Tom Pakulat Memorial Golf Tournament